At Long Last, We Have Lil Nas X and Lady Gaga Photos to Frame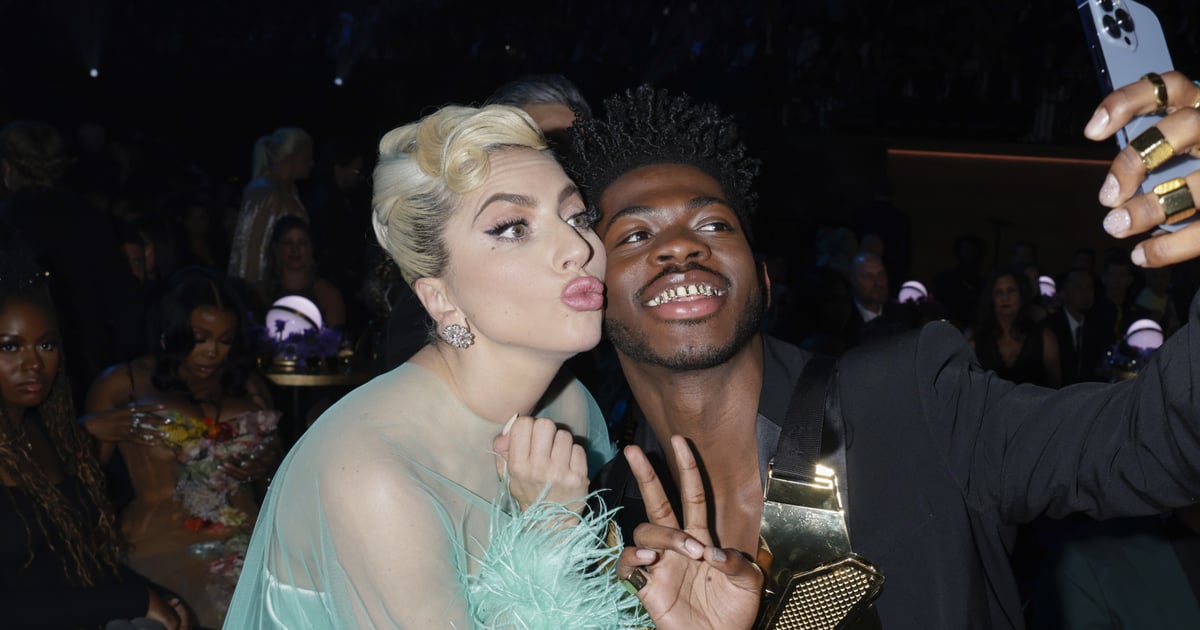 It finally happened, folks: Lady Gaga and Lil Nas X met in person for the first time. The music icons crossed paths at the Grammys on April 3, and photographers were nearby to capture footage of their wholesome interaction. After locking eyes and sharing a sweet hug, the singers snapped a few selfies together and chitchatted during a commercial break. Is it possible they were discussing a potential Mother Monster and Montero collaboration?
Both stars performed on stage during the ceremony at the MGM Grand Garden Arena in Las Vegas — Lil Nas X reunited with Jack Harlow to sing "Dead Right Now" and "Industry Baby," while Gaga delivered a jazzy rendition of her songs "Love For Sale" and "Do I Love You." Somewhat surprisingly, this was the first time they've been in the same room together that we know of, despite earning nominations at several of the same award shows in the past. For reference, they each scooped up nominations for the 2019 American Music Awards, 2020 Grammys, and 2021 MTV Video Music Awards, but either one or the other didn't attend the ceremonies. This year, Gaga nabbed six Grammy nods, while Lil Nas X nabbed five, and they were pitted against one another in three categories: best music video/film, record of the year, and album of the year.
Lil Nas X hasn't been shy about praising Lady Gaga's work or expressing his interest in working with the "Stupid Love" singer. Back in February 2020, he first sparked fantasies of a Lil Gaga X crossover by tweeting, "i have this song that i want lady gaga to hop on." A year and a half later, he readdressed the goal during a fan Q&A on Twitter, explaining that he wanted to team up with her for a track on his "Montero" album, but "never finished writing to it & sending it to her." Following the release of Gaga's "Chromatica" album, he complimented one song in particular by tweeting, "alice slappin," referencing the second track on her sixth studio album.
Read ahead to admire all the frame-worthy photos of Lil Nas X and Lady Gaga's long-overdue hangout at the 2022 Grammys.