"Black Panther: Wakanda Forever"'s Runtime Is the Second-Longest in MCU History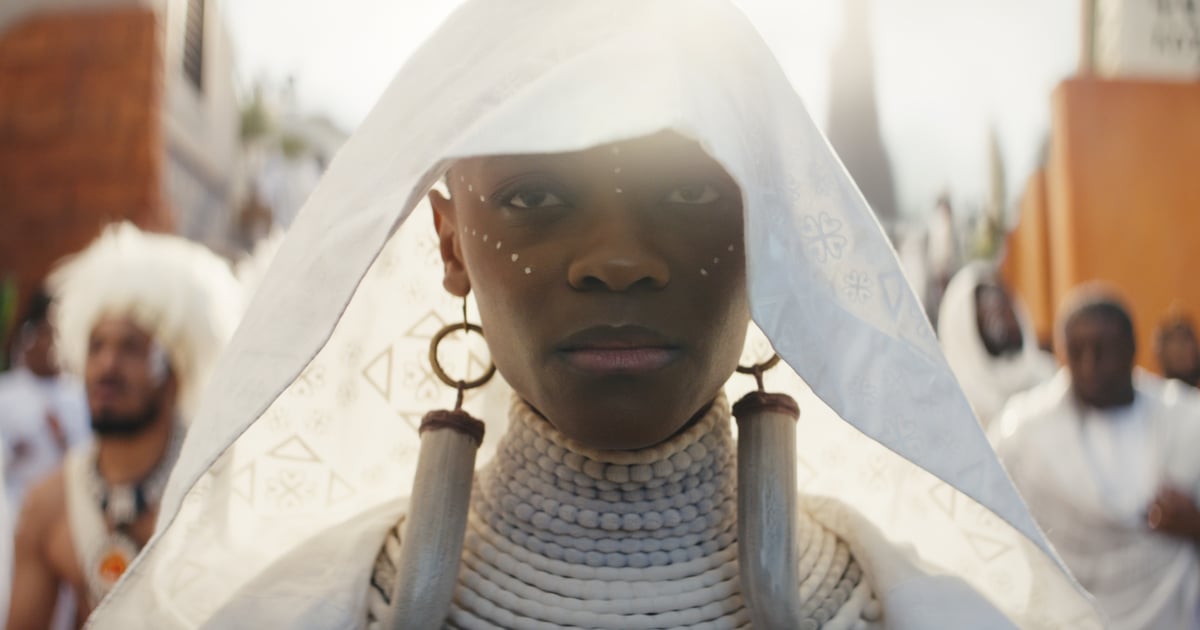 Wakanda has lost its king, but the country's people fight on in the highly anticipated sequel to 2018's "Black Panther." The trailer for the second installment film, titled "Black Panther: Wakanda Forever," debuted at Comic-Con on July 23. From the opening moments, it's clear Wakanda is in mourning for T'Challa (the late Chadwick Boseman), but as a new threat looms, Nakia (Lupita Nyong'o), Shuri (Letitia Wright), and the rest of T'Challa's friends and family must band together to protect Wakanda. Still, even as the franchise is moving forward, Boseman's presence can be felt throughout.
At one point in the two-minute teaser, a mural of T'Challa appears on the screen as Queen Ramonda (Angela Bassett) says, "I am queen of the most powerful nation in the world, and now my entire family is gone. Have I not given everything?" Even though the characters are grieving, much in the way fans are, there's also an overwhelming sense of hope in the first footage of the film. From a brief flash of an unknown character wearing the Black Panther suit to another character giving birth underwater, "Black Panther: Wakanda Forever" is very much about embracing new beginnings while also honoring the past. Director Ryan Coogler said as much during the movie's Comic-Con panel.
"It's been five years since I was here. I sat about there and we premiered the first footage from 'Black Panther 1,' and sitting next to me was our T'Challa, the late great Chadwick Boseman," Coogler told the crowd, per Variety, before sharing that Boseman squeezed his shoulder as they watched the trailer for the first film. "I promise you, I can feel his hand on me right now."
Coogler went on to tease what fans can expect from the "Black Panther" sequel. The director said the movie "goes to new places in Wakanda that we haven't seen before and it goes to new places in the Marvel Cinematic Universe." Additionally, the trailer's musical choices — Tems's cover of Bob Marley's "No Woman, No Cry" and Kendrick Lamar's "Alright" — suggest Wakanda will find a way forward in the wake of T'Challa's death.
Ever since Marvel Studios confirmed "Black Panther"'s sequel in 2018, fans have been yearning for more details. But following Boseman's heartbreaking death, many were left wondering how the franchise would move forward without King T'Challa. Information about the second installment remained under wraps as the cast and crew figured out how to honor Boseman and the "Black Panther" legacy.
On May 3, 2021, Marvel confirmed the film's official release date and title, and in June 2021, production officially kicked off in Atlanta. "It's clearly very emotional without Chad," Marvel Studios chief Kevin Feige said before a fan event in Los Angeles on June 29, 2021, according to Variety. "But everyone is also very excited to bring the world of Wakanda back to the public and back to the fans. We're going to do it in a way that would make Chad proud."
In May, Letitia Wright spoke to Variety about how the cast and crew honored Boseman on set, saying, "We honored him by committing ourselves to the story that he started, the legacy he started with this franchise and we just committed every day to working hard, no matter what circumstances we faced. And we faced a lot of circumstances. A lot of difficult situations, but we came together as a team, and we poured everything into this movie."
Letitia Wright reveals how "Black Panther 2" honored Chadwick Boseman on set, "We committed everyday to working hard, no matter what circumstances we faced. And we faced a lot of circumstances. A lot of difficult situations, but we came together as a team." pic.twitter.com/9UsXU31wBS

— Variety (@Variety) May 22, 2022
Read on for more details about "Black Panther: Wakanda Forever," including the new and returning cast, the movie's runtime, and its fall release date.
— Additional reporting by Sabienna Bowman.