BTS Makes a Buttery Smooth Entrance at the Grammys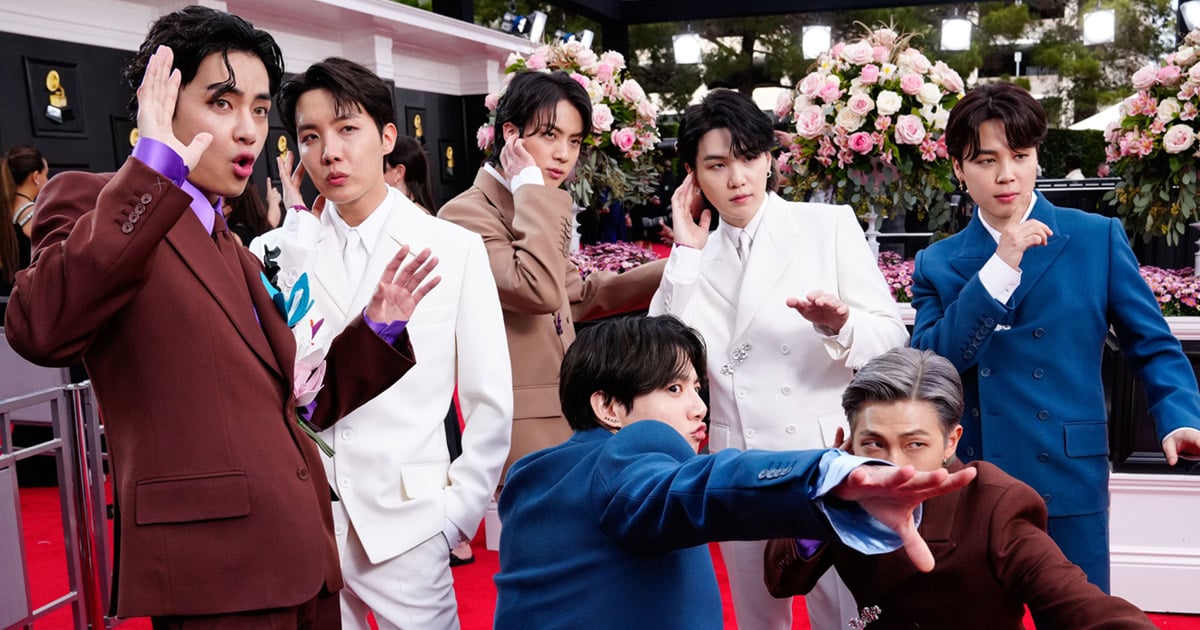 BTS sent the temperature skyrocketing with their buttery smooth red carpet entrance at the Grammys on Sunday. Showcasing their individual style, V, Suga, Jin, Jungkook, RM, Jimin, and J-Hope rolled up in coordinated Louis Vuitton looks in shades of blue, white, and brown. As seasoned Grammys veterans and the K-pop kings of hand gestures, BTS knew exactly what to do when the Glambot, the award show's slow-motion style camera, came swinging in their direction.
As soon as it came their way, half the band brought their hands to their ears, while the others crouched and posed like a set of movie spies frozen in an iconic action scene. What sometimes requires celebrities multiple takes only took BTS a moment, but we're not surprised considering they have badass dance skills and an overall swag that makes us melt like butter every time they hit the red carpet. "Before we fight, I call dibs on RM. You guys can fight over everybody else," Trevor Noah said in his opening speech ahead of the award ceremony.
Moments after their Glambot photo, the K-pop band revealed that they'd love to collaborate with a wide range of A-list artists, including Lady Gaga, Olivia Rodrigo, and J Balvin. With their well-earned title as the most successful boy band in the world — and a collaboration with Snoop Dogg under their belts — we imagine their dream collabs (and ours) are just a few quick phone calls away.
Laying the groundwork for potential collabs and catching up with friends, the group also snuck in few fun, behind-the-scenes moments with their fellow celebrities. From Megan Thee Stallion to Olivia Rodrigo and Japanese Breakfast's Michelle Zauner, BTS made the most of every second at the Grammys by snapping selfies with their celebrity friends, and we can't wait to see all of their star-studded photos on Instagram.
Later in the evening, BTS performed their smash hit, "Butter," on the Grammys stage. The band might be dropping their new album any day now despite their extended hiatus. Tonight, they are nominated for best pop duo/group performance for "Butter," the same category they were nominated in last year for their song, "Dynamite," BTS's first fully English song release.
Join us in scrolling through all of Jungkook, Jimin, Suga, V, J-Hope, RM, and Jin's best moments at the 2022 Grammys here.