Chloë's Sexual Agency Is Not Up For Debate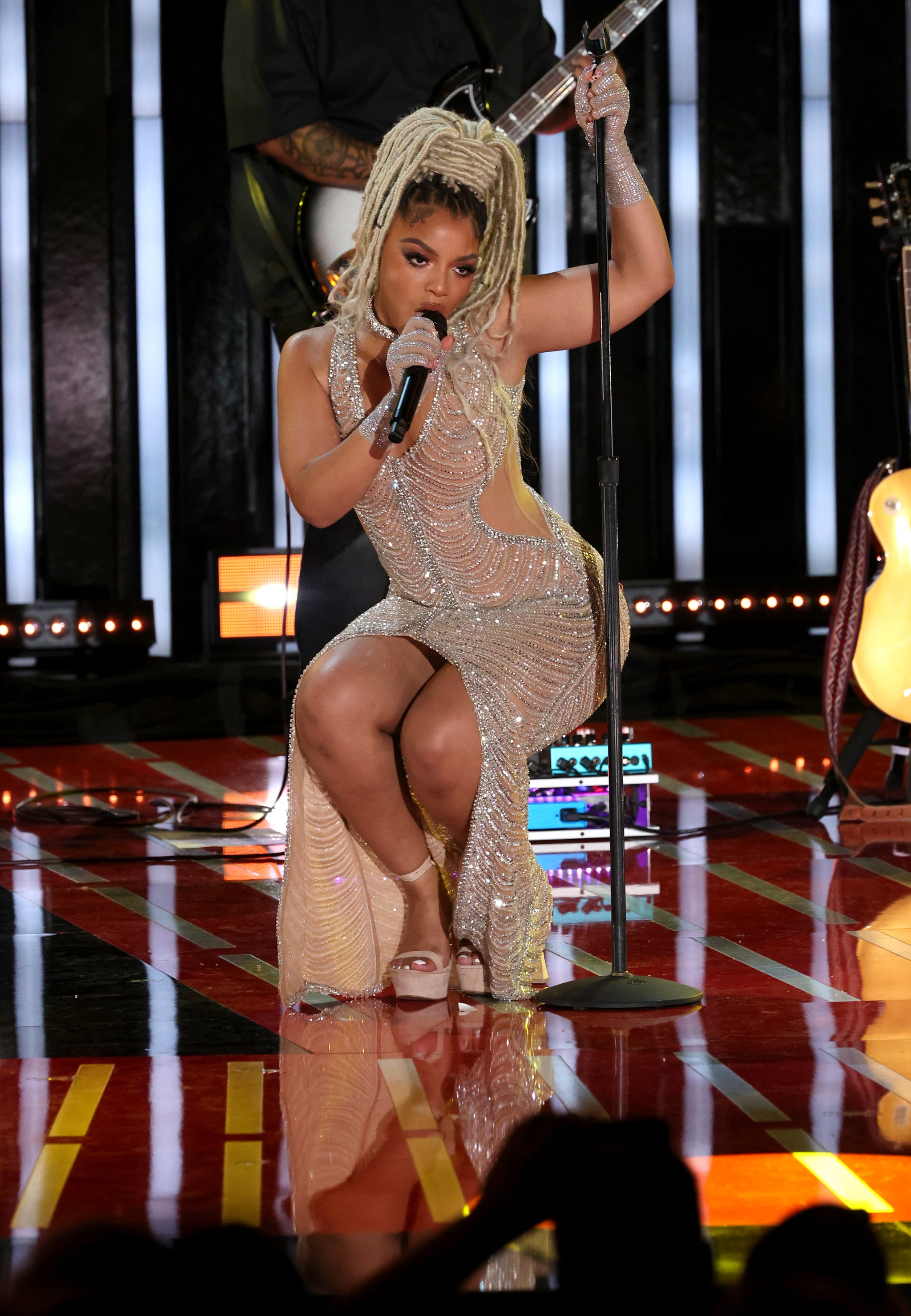 People on social media are always in shambles whenever Chloë posts something sexy, and it's exhausting. On Thursday, the 23-year-old singer posted a now-deleted video of herself wearing lingerie and sucking on a lollipop while thanking fans for their support. It was hot! But within a few hours, there were comments plastered all over Twitter and Instagram about how she's "doing too much" for attention, calling her "cringe," "thirsty," and "church girl gone wild." People even dragged Beyoncé into the conversation with regards to being sexy while maintaining a classy persona — as if Beyoncé wasn't singing "Kitty Cat," "Bootylicious" and "Naughty Girl" (all hits) at the same age as Chloë. The naysayers also called for Chloë to delete the video, which she eventually did.
We all have different responses when it comes to the topic of sex and sexuality. Being overtly sexy and subtly sexy are equally valid. If the video of Chloë sucking on a lollipop caused you discomfort, fine. But it's the slut-shaming that's unwarranted. "Chloe Bailey could lick all the lollipops in the world in the cringest ways possible while marketing herself as a sex goddess for the weirdest incels on the Internet, and it STILL wouldn't justify all this slut-shaming y'all subject her to," a Twitter user wrote, and that's the tweet! Chloë is 23 years old, embracing her body, and sexy. How she chooses to display that on social media is her choice.
In an interview with Billboard this past August, Chloë opened up about how she's embraced her sexuality. "I'm a pretty sexual being and I feel confident in who I am and in the skin I'm in. I think it's so beautiful when humans appreciate their bodies because that's what carries us through in the world and it's not a nasty or gross thing. I just turned 23 this year, I'm not a teenager, I'm not a little kid anymore and I'm really happy that people are seeing that," she explained. "It definitely wasn't forced. It wasn't anything new. The real me was always there, people are just now seeing me 360."
Two months later, Chloë pointed out how it's always "shocking [for people] when a Black woman is confident in the skin that she's in and isn't afraid to show it," but she's entered a state of mind where she's confident in who she is and what she has to offer. "Screw what anyone else has to think, I will love who I am, and I will be proud about it and speak up loudly about it, then no one can really hold us back," she said. Chloë also had a message for haters, telling SiriusXM's Urban View host Michael Muse, "I'm learning that my voice matters . . . And I'm learning it's OK to be who I am. And if anyone has anything to say about it, it does not matter. It's irrelevant because who I am is not who they are."
Black women's sexual expression has always been weaponized, whereas white celebrities like Kylie Jenner and Miley Cyrus have been able to successfully transition from childhood innocence to a sexy adult persona with far less judgment. In fact, they've been praised, or at the very least, understood, for wanting to shed their childhood image. Chloë is in a position of power to challenge the school of thought that Black women's bodies need policing. It needs to be challenged. Misogynoir works in various ways. Sometimes, it's oversexualizing Black girls by labeling them as "fast" or "grown" or referring to them as "women" to justify predatory behavior. Other times, it's criticizing Black women for having agency and authority over how they display their bodies. It's not always for the male gaze. Being open about your sexual self can be empowering, but it's also challenging when society puts bounds and restrictions on how it should be done. So, can we not?