Fans Think Little Mix's New Song About Cutting Off a Toxic Person Is About Jesy Nelson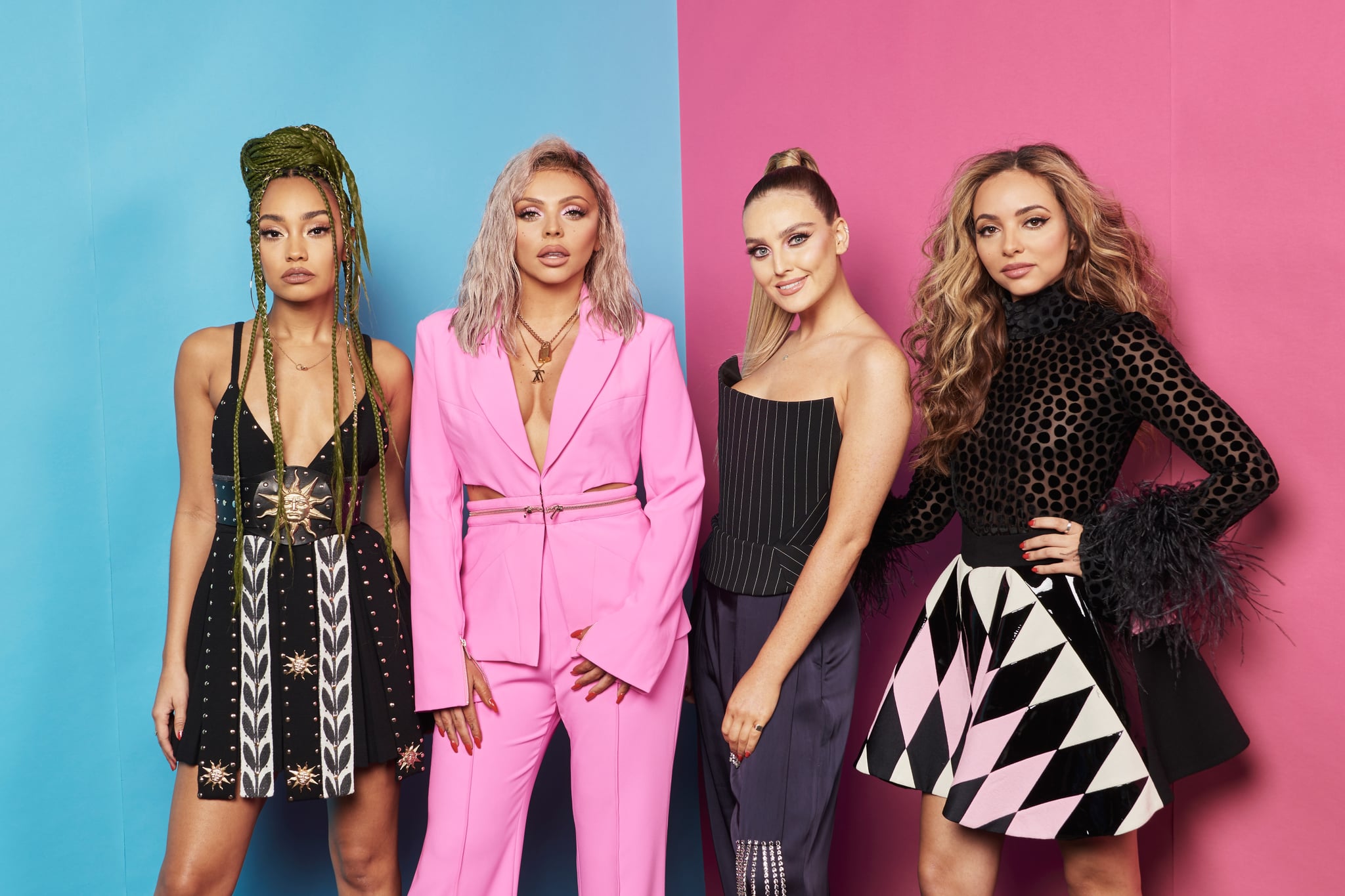 Image Source: Getty / Gareth Cattermole / MTV 2018
Little Mix's new song "Cut You Off," off their greatest-hits album Between Us, which dropped on Nov. 12, is raising eyebrows for one reason: fans are convinced the track is shading Jesy Nelson. The former member was part of the group for nine years alongside Jade Thirlwall, Perrie Edwards, and Leigh-Anne Pinnock before leaving the group in December 2020, citing mental health reasons. At the time, the split seemed amicable, both sides releasing joint statements wishing each other luck. But as time went on, things appeared to change.
In an Oct. 6 interview with Glamour UK, Nelson revealed she hadn't spoken to Little Mix since leaving the group. "It is weird because for so many years we were as close as sisters, together every hour of the day for weeks, sharing beds, laughing, crying just 24/7 the four of us together and then . . . Nothing," she said. Things got more complicated when Nelson dropped her debut solo single, "Boyz," featuring Nicki Minaj, on Oct. 8, and was accused of blackfishing (a term used to describe a white person of influence who changes their appearance to appear Black) because of her use of a blaccent, visibly darker skin tone, and curlier hair in the music video. Soon after, Thirlwall, Edwards, and Pinnock unfollowed Nelson on Instagram.
Nelson denied blackfishing accusations in an Oct. 8 interview with Vulture, telling the publication, "I love Black culture. I love Black music. That's all I know; it's what I grew up on. I'm very aware that I'm a white British woman; I've never said that I wasn't." Little Mix broke their silence on the matter in an Oct. 30 interview with The Telegraph 's Stella magazine. "We don't want to talk about the video, or be critical, but one thing we will clarify regarding the blackfishing situation is that Jesy was approached by the group in a very friendly, educational manner," Thirlwall said.
After everything that's happened, you can't blame fans for thinking "Cut You Off," which is about leaving behind toxic people in your life, is aimed at Nelson. But is the song actually about her? Keep reading to see why fans think so.
Are Little Mix's "Cut You Off" Lyrics About Jesy Nelson?
"I'm sorry but 'Cut You Off' is 100% about Jesy," one fan wrote about the song on Twitter, referencing several lyrics that allude to the group's fallout with Nelson leading up to her departure from Little Mix.
The pre-chorus references someone who would not listen to them no matter how hard they tried to get through to them, causing them to have to part ways. "'Cause you don't wanna listen, you got me so triggered / Can't be mad about it when you handed me the scissors / Everyone's got a limit, really pushed me there, now I've hit it." The lyrics may mirror Little Mix's comments about their discussion with Nelson regarding blackfishing.
The girls sing about growing apart from someone they thought would be part of their lives forever in the chorus. "Someone tell me how / How did we get here? It used to be so good," they sing. "Nothing lasts forever, but I really thought we could." Although they don't want to cut that person out of their life, the group say it's for the best. "I know there'll be tears, but it's worth a broken heart / If I can't protect my energy, I gotta cut you off," they sing.
"Cut You Off" also includes lyrics that might shade Nelson going solo. "Don't think I believe ya, is the grass out there really greener? / Are you happy now?" the girls sing. "I know you think you're all that / It'll be so sweet when you crawl back / But it's too late now." Check out the song below.
[embedded content]
What Have Little Mix Said About "Cut You Off"?
During an Oct. 1 Twitter video, Thirlwall revealed "Cut You Off" was written a couple of months prior, signaling to fans that Little Mix may have penned the track after Nelson left the group in December 2020. Thirlwall also said writing "Cut You Off" was "kind of a therapy session," indicating a real experience may have inspired the lyrics.
Anddd the next new song on Between Us is… Cut You Off ✂️ Can't wait to share this with you on 12.11 https://t.co/eN2q20Vynq pic.twitter.com/KGHtiUTUBC

— Little Mix (@LittleMix) October 1, 2021
What Else Could Little Mix's "Cut You Off" Lyrics Be About?
Considering all the drama that's been going on between Little Mix and Nelson recently, it's not far-fetched to think "Cut You Off" is about their fallout — but that's not necessarily the case. The girls never directly call out anyone in their song, so it could also be inspired by an ex. Before settling down with her boyfriend, soccer player Alex Oxlade-Chamberlain, Edwards dated Zayn Malik while he was still with One Direction. She's also been linked to model Leon King and Skins actor Luke Pasqualino. Meanwhile, Thirlwall's past boyfriends reportedly include The Struts' Jed Elliott and Britain's Got Talent's Sam Craske. As for Pinnock, her rumored old flames include Cover Drive's Jamar Harding and soccer player Jordan Kiffin.
However, all three women are in happy relationships now, and Edwards and Pinnock even welcomed babies with their long-term boyfriends in May, so it's unlikely that they're still hung up on their exes. With this in mind, "Cut You Off" could have been inspired by other people in the girls' lives (either personal or professional) that fans may not know about.
Fans will have to unpack Little Mix's Between Us album lyrics themselves, because it's unlikely the girls will ever reveal for certain who inspired "Cut You Off."