JoJo Siwa on Her DWTS Journey and Helping Fans Celebrate Their Sexualities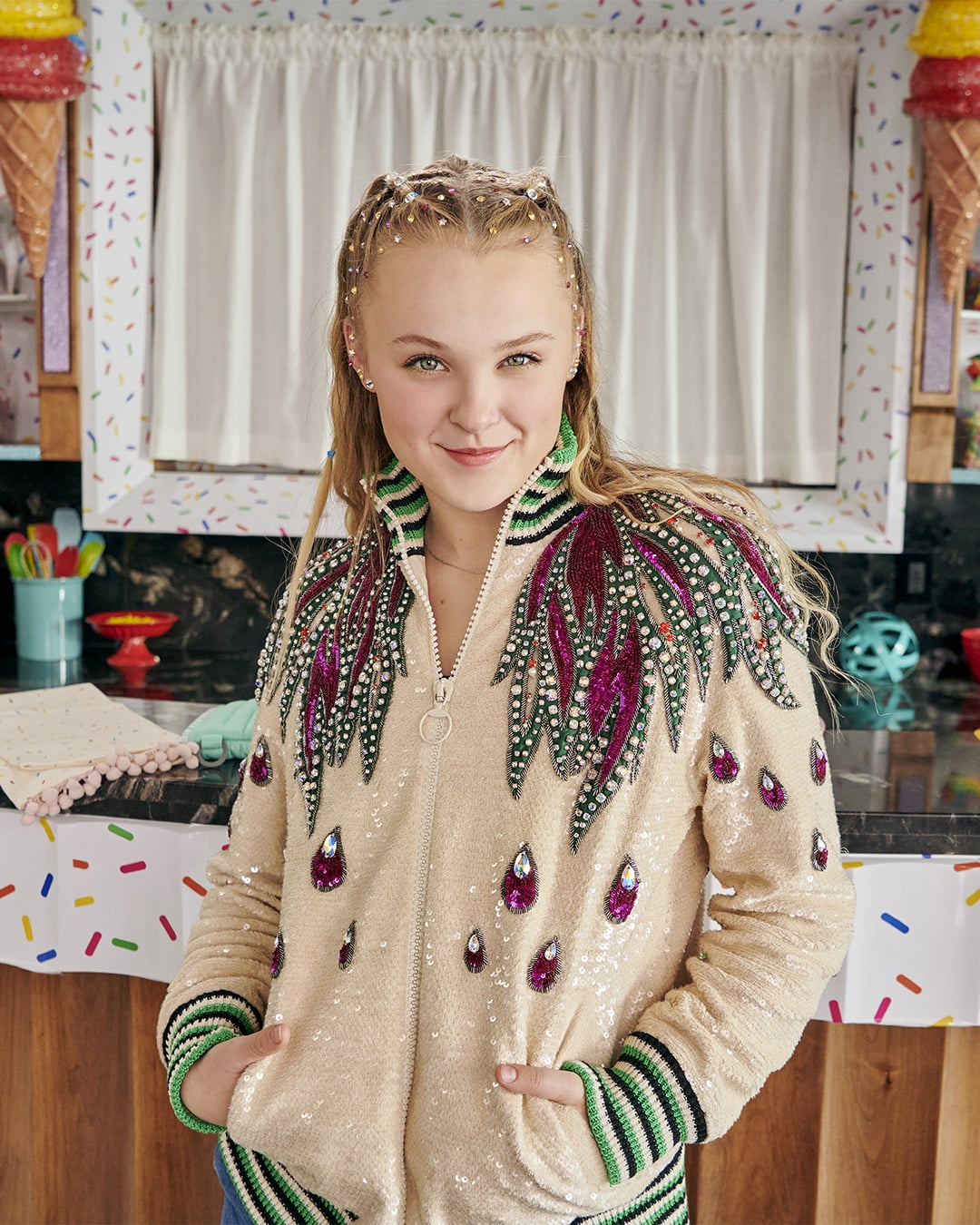 Image Source: Messenger
JoJo Siwa's Dancing With the Stars run has been a breath of fresh air for fans seeking more authentic queer representation on their TV screens. As semi-finalists in the competition, 18-year-old JoJo and her partner, Jenna Johnson, have already made history as the first same-sex couple to appear on the show, and JoJo knows how much it means to her fans to see them compete.
"There are points in time where Jenna and I will forget we're two girls dancing together and this has never been done before," JoJo told POPSUGAR. "It just feels so natural. I think me coming out and my journey has helped a lot of other people, and that's what I want to continue to do . . . I feel like for people to watch [the show] and see two girls together is really special because you're not just seeing a female-male couple. You're seeing two girls, and it's normal — it's not weird and it's not gross. It's awesome and accepted and celebrated, and it's just amazing."
"I think one of my favorite things is when people say that they wish they had someone like me when they were little."
Since coming out in January, JoJo has embraced being a "gay icon" for younger fans by being open about her own identity and encouraging others to do the same. "I think one of my favorite things is when people say that they wish they had someone like me when they were little because that means that the people who are little right now do have me as that person and that just feels so good."
On Celebrating Her Identity
Speaking about what her sexuality means to her, JoJo recently sat down for a video call on Messenger with members of the It Gets Better project and Facebook's Pansexual Pride group to discuss her coming out journey, finding personal mentors in the LGBTQ+ community, and how to be a supportive ally. "It was really a chance for me to get to talk about all that in-depth," said JoJo, who identifies as pansexual. "Pansexual, basically, it's that you don't find a body attractive. You find a soul attractive, I think is the easiest way to explain it. You don't like what's on the outside, you like what's on the inside. For me, what somebody looks like outside practically has no effect, because it's all about what's on the inside. The outside's just a really great bonus."
"It means that you're choosing to live your life the way you want to live it and that's OK."
JoJo doesn't shy away from expressing herself openly and authentically, whether that's through her vibrant style moments or her heartfelt conversations with fans. Offering some helpful words of advice for those looking to channel their own self-confidence, she shared the secret to her tenacity. "Nobody is normal. And I think a lot of times people are worried and fearful about being judged, but the truth is nobody's really that judgmental. Everybody's just trying to make it themselves, too," JoJo said. "I think [being themselves] makes them brave. I think that makes them awesome and cool and special and celebrated . . . It means that you're choosing to live your life the way you want to live it and that's OK."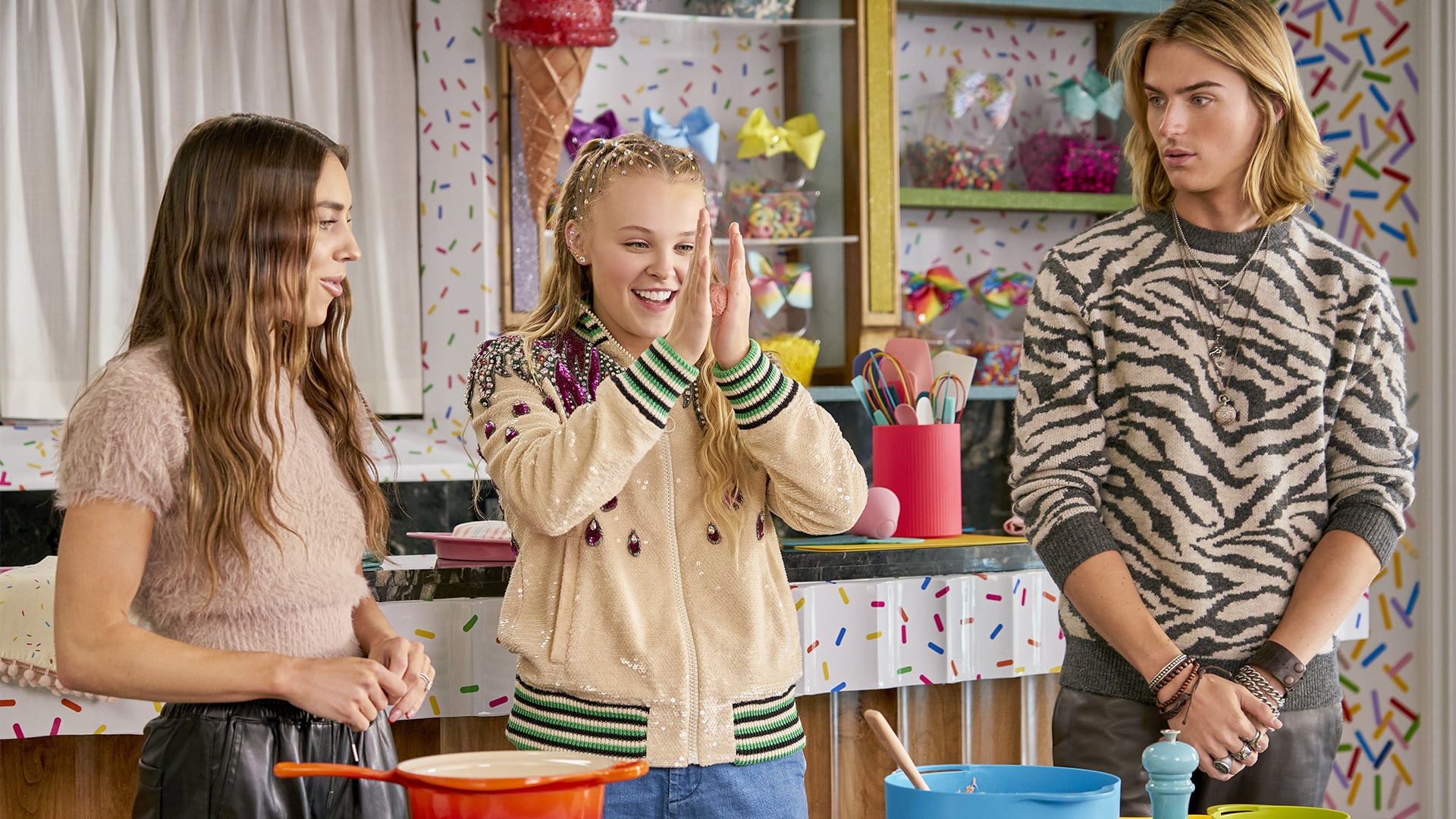 Image Source: Messenger
On the Importance of Chosen Families
Fully embracing who you are is a journey that differs for every individual. Still, many members of the queer community find solace and strength in creating chosen families or groups of friends who form a support system for one another, especially for those who don't have a positive relationship with their biological families. Around the holidays, celebrations like Friendsgiving give these chosen families a space to honor each other and spread the love they deserve.
For JoJo, this meant spending her first Friendsgiving with some of her best friends as part of Messenger's new "How We Friendsgiving" series — you can watch her "Beginner Mode" episode here — which is available to enjoy with friends via Watch Together by starting a video call on Messenger, tapping the media button in the bottom right on Instagram, or searching the episode title under the Messenger menu.
"I feel like Friendsgiving is such a time that you get to celebrate with your chosen family, which is something that I think is really, really, really important," JoJo said. "You get to just laugh and sit around and have fun and give each other love and support. I actually got to celebrate Friendsgiving with my two best friends: Jenna Johnson, who is my partner on Dancing With the Stars and Luke Eisner, the vocal coach on Dance Pop Revolution . . . I think [my family and I] are going to celebrate Thanksgiving early because my brother is going to be out of town for Thanksgiving, and we want all of the family [together]."
As part of the Messenger collab, JoJo and her friends ate pumpkin pie (whipped cream is a must) and made cranberry turkey meatballs. JoJo also shared her mom's hack for turning boxed gravy into something truly delicious: add chicken bouillon. To help fans celebrate the holiday with their friends, JoJo also created custom Friendsgiving camera stickers and Soundmojis (emoji sent with sound) inspired by her personal friendships. The stickers appear in the app at the bottom of your screen after taking a photo or video, while the Soundmojis show up under the loudspeaker icon in the smiley face section of a chat.
How We Friendsgiving

Happy Friendsgiving! 🦃 👩‍🍳 Watch JoJo Siwa, Jenna Johnson and Luke Eisner attempt a twist on a Thanksgiving classic. Start a video call with your besties on Messenger or @instagram and watch together! #HowWeFriendsgiving

Posted by Messenger on Monday, November 15, 2021
On Friendship and Gratitude
Beyond the holidays, JoJo and Jenna's friendship is best exemplified through their 10-step pre-show ritual for Dancing With the Stars, aka the secret to their success this season. "Typically, we order boba every single show day. However, the last show day, we didn't for some reason, and it threw things off, but we're OK. We made it through," JoJo said of their Queen night performance. "We start off the morning — I go in Jenna's trailer and I get her something from Gucci. I sit criss-cross applesauce in the same place on the couch and she walks in. That's our first pre-show ritual."
"I'm thankful for Dancing With the Stars for giving me the platform to share that two girls dancing together is not weird."
Next, the pair films a social media video in the same spot every day, does some push-ups, and finishes with a quick run-through of the routine. "Then we go into a special corner and we say a prayer," she said, adding that they also sing "Holy Spirit Activate" before going into hair and makeup and repeating their mantra: "We're prepared. We're excited. We have each other."
Thinking back on all that she's been grateful for this year, performances included, JoJo said, "Every day that I'm with Jenna, she sets an alarm on her phone that goes off every day at 12:00 p.m. and it's her gratitude alarm . . . So every day, I say what I'm grateful for, and every day the list just gets longer and longer." In addition to being thankful for her family and friends, her time on DWTS has made her thankful for the smaller things in life — like blister Band-Aids, water, and bananas — and for moments where she gets to show that being yourself 100 percent is something to be proud of. "I'm thankful for Dancing With the Stars for giving me the platform to share that two girls dancing together is not weird," she said. "I'm thankful that I've had the year that I've had."
Image Source: Messenger