Kaley Cuoco and Zosia Mamet's Friendship Meet-Cute Is the Stuff of Rom-Coms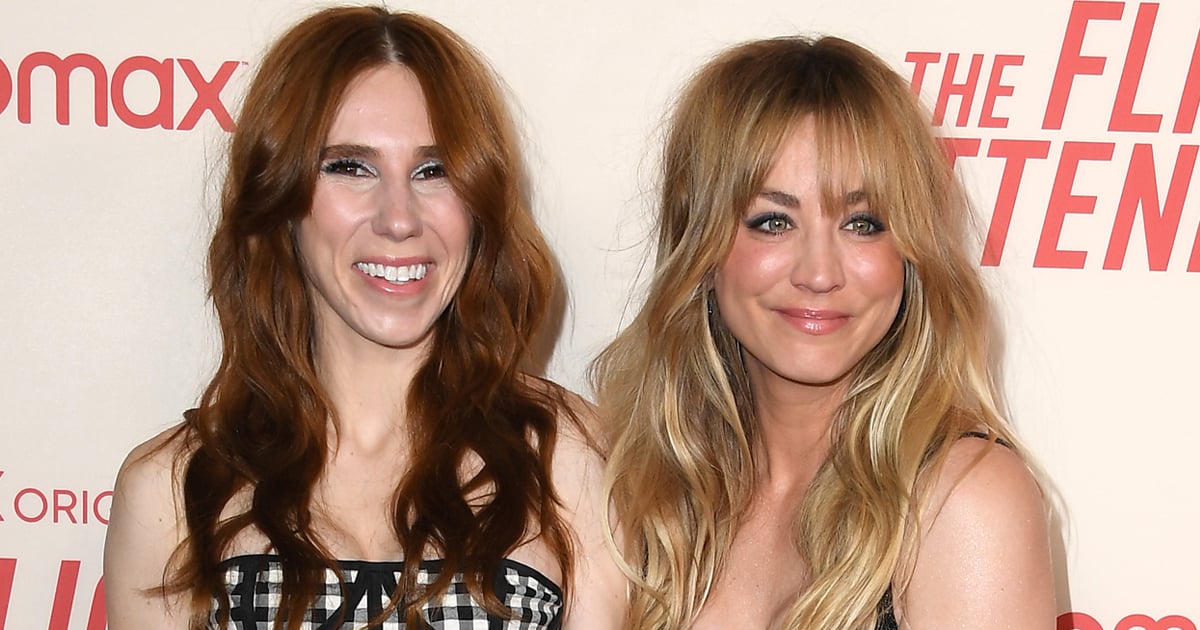 "The Flight Attendant" starts off as a romance that's quickly soured by a night of alcohol-induced fun that results in a gruesome, unsolved murder. At the heart of the show — which tackles everything from alcoholism to espionage — is a love story defined not by Cassie (Kaley Cuoco) and her one-night stand, Alex (Michiel Huisman), but by Cassie and her onscreen best friend, Annie (Zosia Mamet). When filming kicked off in 2019, their chemistry was unmatched. Two years and as many matching tattoos later, the BFFs are inseparable proof that good things can come out of tough times.
How Kaley Cuoco and Zosia Mamet Met
During the casting process for "The Flight Attendant," Cuoco and Mamet were asked to do a chemistry read together, a hypothetically daunting task that solidified their jobs and their friendship. "Michiel [Huisman] and Kaley's relationship, totally that's a love story, but the real love story of ['The Flight Attendant'] is Annie and Cassie," Mamet told The Hollywood Reporter in June 2021. "When I heard they wanted me to [do a] chemistry read with Kaley, I was like, 'Oh, they see how important this relationship is'; you need a chemistry read between two female best friends who have been best friends since they were kids."
"It was this immediate spark of chemistry between the two of us."
The chemistry read was a success in that it landed both actors their spots as onscreen best friends and laid the foundation for a years-long friendship. "I walked into that room, and they were like, 'Feel free to play,'" Mamet said. "I was pretending to be on my phone in the audition room, and Kaley walked up and bopped me on the nose, which wasn't in the script, and I immediately swatted her hand away like, 'Don't do that.' I always say that, [and] in that moment, Annie and Cassie were born. It was this immediate spark of chemistry between the two of us . . . We both just have this great sense of play and we adore working together. I think that we were the bane of our first [assistant director's] existence because they literally had to be like, 'OK, stop. Stop, we said cut!' We just had so much fun together."
Kaley Cuoco and Zosia Mamet as Roommates
On set, Cuoco and Mamet — whose onscreen characters are more serious than silly — like to take turns making each other laugh, going off script with bits, and being affectionate in the form of hugs and countless "boops." The unparalleled bond between the friends was made even stronger when, in September 2021, Kuoco split from her husband of three years, Karl Cook.
Speaking with Kelly Clarkson on "The Kelly Clarkson Show" on April 28, Cuoco revealed that Mamet moved in with her shortly after the divorce to help her cope with her emotions, adding that it was difficult for her to open up at first. "I tried to take on everything by myself until I realized I actually, physically couldn't do it anymore," she said. "Zosia is my costar and my best friend. She basically lived with me the last few months of shooting (season two), we just moved in together, and I don't think I would've gotten to work some days without her . . . I never thought I had to depend on anyone like that before and I really depended on her. She helped me through so much."
"Obviously, romantic relationships are important, but I think female friendships bring it to another level."
Becoming roommates proved to be exactly what Cuoco and Mamet needed to strengthen their friendship, and the selfless gesture left a lasting impression on Cuoco. "She would come to work on days she didn't have to be there and come and have lunch with me," she said. "I'm like 'You have your day off today,' and she's like 'I'm coming in,' 'cause she heard I was having a rough time and she would sit in my trailer. She's the best. I'm very lucky that I had her."
In the same interview, Mamet explained that their friendship is unmatched. "I'm not super close with my family, and I've always found chosen family to be so exceptionally important," she said. "I think, as women, [that friendship] is tantamount to anything. Obviously, romantic relationships are important, but I think female friendships bring it to another level."
Kaley Cuoco and Zosia Mamet's Friendship
Most recently, the friends have been all over Instagram, posting heartfelt birthday messages for each other alongside carousels of photos that share a behind-the-scenes glimpse at their adorable friendship. "HAPPY BIRTHDAY to this magical unicorn human," Mamet captioned an Instagram post dedicated to Cuoco on Nov. 30, 2021. "You are one of a kind @kaleycuoco I love you more than words could ever say. Here's to a thousand more years of adventures and laughing together so hard our abs hurt. You will always be the Cassie to my Annie."
In response, Cuoco shared a birthday tribute for Mamet on Feb. 2. "Happy happy birthday to the princess unicorn fairy that is @zosiamamet !!" she wrote. "I am so grateful you danced your way into my life and have never left. You deserve the entire world. The kind , hilarious, sweet, empathetic, adorable, genius way about you, truly touches everyone you meet. I'm not sure what my life would look like over the last few months , if you weren't around telling me to go to work, and that it's gonna be ok . . . I love you forever sister wife. There is no one like you my widdle smoosh!! 🎂 🎈 💋 🎁 you will always be the Annie to my Cassie! Boop!"
As a tribute to their friendship and "The Flight Attendant," Cuoco and Mamet got matching paper-plane tattoos together in October 2020. On April 19, they added another matching tattoo to their growing collection: "boop" inked on their inner arms in honor of their meet-cute.
Cassie and Annie might be willing to help each other get away with murder, but Cuoco and Mamet's IRL friendship is the real deal. See more "boop"-worthy photos of the BFFs — including their time at the tattoo parlor — ahead.