Kourtney Kardashian and Travis Barker Touch Down in Italy Ahead of Third Wedding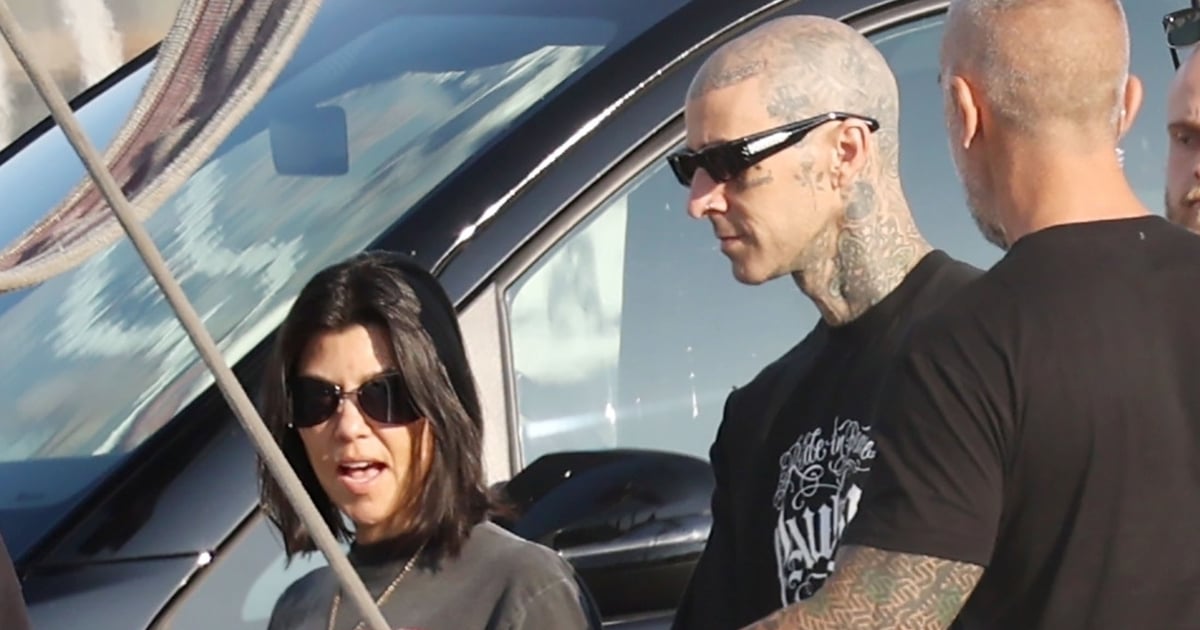 Kourtney Kardashian and Travis Barker are officially legally married. On May 15, a source confirmed the news to People after TMZ shared photos of the couple posing in front of a "Just Married" sign in bride and groom outfits in Santa Barbara, CA.
According to People, they wed in front of a few close friends and family. "They had to legally get married first ahead of their big Italian wedding, which is happening very soon," the source told People. "All the details are set and the whole family, including all the kids, are very excited." On May 16, Kardashian and Barker both shared their black-and-white wedding photos via Instagram captioned, "Till death do us part."
And now, the couple have touched down in Italy for their big wedding! Three days after their California wedding, Barker and Kardashian were photographed in Portofino. Shortly after, the rest of the Kardashian-Jenner clan were spotted boarding a plane to join them. "Kourtney has been very relaxed leading up to the wedding and has been in a great mood," a source told E! News. "She's just happy and so in love with Travis and isn't stressed about the details. They are very excited to start this next chapter in their lives and make it even more official."
The source continued, "Although she is already legally married to Travis, she is excited to finally have her fairytale wedding and have her friends and family witness them exchange vows. The family will be heavily involved and all of their children will be there and will be acknowledged. It was important to both Kourtney and Travis to have the kids be a part of the ceremony."
It was previously reported that the couple got married at the One Love Wedding Chapel in Las Vegas in the early hours of April 4 following their appearance at the Grammy Awards. The ceremony lasted 30 minutes, and an Elvis Presley impersonator was in attendance. Notably missing, however, was an actual marriage license.
"Practice makes perfect."
Following the reports, Kardashian shared photos from the spontaneous outing and clarified that the wedding was a practice run. "Once upon a time in a land far, far away (Las Vegas) at 2am, after an epic night and a little tequila, a queen and her handsome king ventured out to the only open chapel with an Elvis and got married (with no license)," she wrote. "Practice makes perfect." Barker also shared photos from the ceremony, writing, "What happens in Vegas," to which Kardashian responded, "Best night of my life."
One Love Wedding Chapel owner Marty Frierson previously told People about the headline-making ceremony. "I didn't know who it was until they pulled up. I advertise as 24 hours, but they wanted to make sure I was still there. They paid and they requested Elvis Presley; that was mandatory. I called back five minutes later and was like, 'I got an Elvis,' and there they were," he said. "They came, got married, tossed the bouquet in the driveway, and danced to Elvis."
Kardashian offered insight into the evening during an April 6 appearance on "Jimmy Kimmel Live" with her famous family. Responding to host Kimmel saying she got "fake married," Kardashian said, "It's not called 'fake married.' There was no possibility to get a marriage license at that hour." She stressed the couple did have the intention of getting legally married, but they didn't want to wait until the morning to obtain the license. "We just did it anyways. It's what's in the heart. It's just not legal."
As you might imagine, several family members were in the loop, including mom Kris Jenner and sister Khloé Kardashian, who FaceTimed into the ceremony. Kim Kardashian, on the other hand, said, "I was sleeping. . . . She put it in the group chat like, 'Oh, hey guys, by the way, I got married last night.' I woke up to a million texts."
The couple first met in 2006 when Barker was dating Paris Hilton, and Kim was working as her closet organizer and stylist. The Blink-182 drummer and the reality star maintained a close friendship over the years, hanging out and grabbing dinner on numerous occasions. They first sparked dating rumors in January 2021 and confirmed their romance on Instagram after Valentine's Day. Not long after, Barker got Kardashian's first name tattooed on his chest.
After less than a year of dating, Barker proposed to Kardashian in October 2021 with an oversize oval engagement ring, surrounded by red roses and candles on the beach of the Rosewood Miramar Hotel in Montecito, CA. Family members, including Khloé, Kim, and Kris, joined the couple for an intimate dinner following the proposal.
Kardashian and Barker have made several public appearances in recent weeks. They attended the Oscars wearing matching all-black outfits on March 27, and Barker performed in the Academy band during the award show. On April 3, Kardashian and Barker appeared at the Grammys in Las Vegas, displaying their signature shows of affection along the red carpet and inside the MGM Grand Garden Arena.
Prior to Barker, Kardashian dated model Younes Bendjima for three years. She and ex Scott Disick also share three children: Mason, Penelope, and Reign. Barker was previously married to Shanna Moakler, and the two have three children together: Atiana, Landon, and Alabama.