Mary J. Blige's BBMAs Icon Award Speech Was All About Self-Love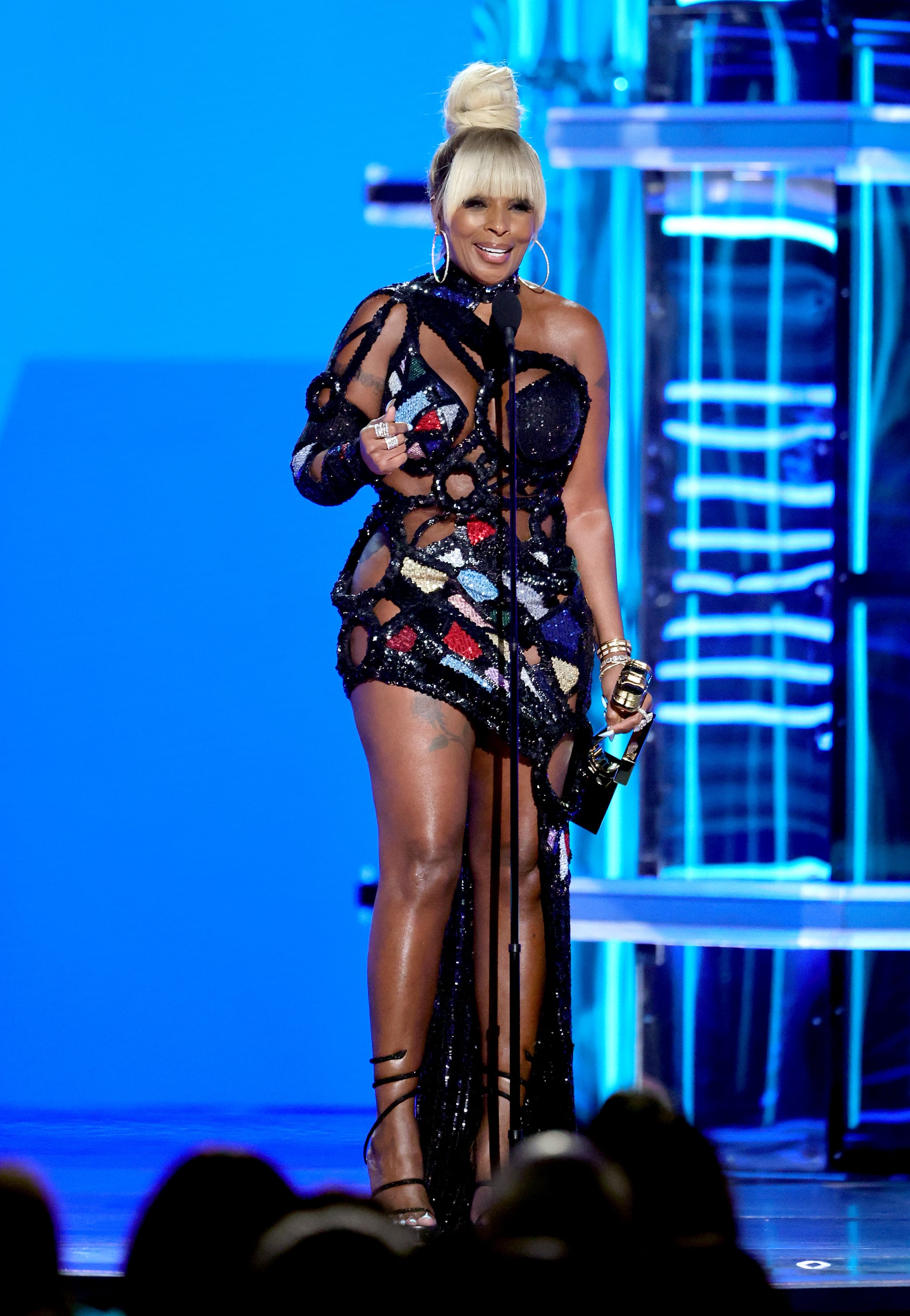 Mary J. Blige received the icon award at this year's Billboard Music Awards, making her the 11th artist to receive the award. She follows in the footsteps of Neil Diamond, Stevie Wonder, Prince, Jennifer Lopez, Celine Dion, Cher, Janet Jackson, Mariah Carey, Garth Brooks, and last year's award recipient, Pink. Watch her emotional acceptance speech ahead.
"Mary J. Blige represents truth," said Jackson, who presented the award. "Her work has always given us comfort, because it represents me and it represents you."
"I'm in a dream right now. Thank you so much," Blige said in her acceptance speech. "The way the world is now, I think people think icons are born that way. They become a legend overnight. But that is definitely not the case. It takes a lot of time, hard work, and a lot of surviving trial and error to achieve greatness. What an icon means to me is overcoming obstacles to accomplish the unthinkable, and that is what I've always represented," she continued. "I've been on this journey for a long time . . . one that was filled with a lot of heartache and pain. But God helped me to channel those experiences and emotions into my music, which is where I started . . . When Andre Harrell and Puff Daddy of Uptown Records introduced the queen of hip-hop soul to the world, it was the beginning of a movement. Every inner-city girl was recognizing their own and could relate to everything I was saying. And every female artist that came into the game wanted to do everything I was doing, and still does to this day. I was ghetto fabulous, and I still am," she said with a laugh.
She went on to thank God, her mother and father and extended family and friends, and finally her fans. Ultimately, though, her own journey to empowerment and autonomy was at the core of her speech. "The message of my music has always been that we are not alone in our struggles, and I'm not alone now," she said. "For so long, I was searching for a real love, but I finally found my real love, and that real love is me."
Blige's very first album, "What's the 411?," was released in 1992 to great success. She has since released a total of 14 studio albums, which have helped her break many records and earned her many other awards. In 2018, she broke Billboard's record for most top-10 hits on adult R&B charts. She's won nine Grammy Awards, four American Music Awards, and 10 Billboard Music Awards. In addition, the multitalented star has been nominated for two Academy Awards and four Golden Globes. She received the Legends Award at the World Music Awards in 2006 and the ASCAP Voice of Music Award in 2007.
She's still out there shining, creating, and making a difference with her art and vision. On Feb. 13, she performed in the 2022 Super Bowl Halftime Show alongside Snoop Dogg and Kendrick Lamar. On March 2, Live Nation announced that it was partnering with Blige to release a Lifetime film inspired by her song "Real Love," which is set to be a coming-of-age romance. And on May 6-8, she helmed the first-ever Strength of a Woman Festival, a partnership with Pepsi and Live Nation that featured music as well as programming about wellness, financial literacy, and more.
"My career has been such an incredible and unexpected journey that has included many turns into avenues I never could have imagined like acting, producing, launching businesses and now even my own music festival," Blige said in a statement about the honor. "Through it all, I always one way or another gravitated back to my first love, music. To be recognized in this way at this moment, with the icon award at the Billboard Music Awards, is an incredible honor and one that I am truly humbled by."
[embedded content]