Nina Dobrev, Abigail Cowen, and Eric Dane on Why It's So Fun to Be Bad
The cast of "Redeeming Love" includes a bunch of actors we've seen tearing up the screen with moving portrayals of romances in different eras — including Nina Dobrev, Abigail Cowen, Eric Dane, Famke Janssen, and Tom Lewis. We were elated to get the chance to speak with them, and the conversation ranged from what it takes to maintain and grow a healthy relationship to why your hair color might be an integral part of your identity (Abbey Cowen speaking for the redheads!). You can find all the details on why dyeing her hair was a "pivotal moment" for the actress in this piece from Jessica Harrington.
There was also an "Euphoria" connection when Eric, who plays Cal Jacobs on the hit HBO show, told us how he feels about always playing the bad guy. For a more in-depth look at Eric's thought process regarding his "misunderstood" villainous portrayals, check out this article from Naledi Ushe.
We've rounded up Eric's "It's fun to be bad," along with the most meaningful segments from our interview with the cast, in the video above. Is there a better hand motion than the one in this GIF to sum up how your identity can feel all consuming?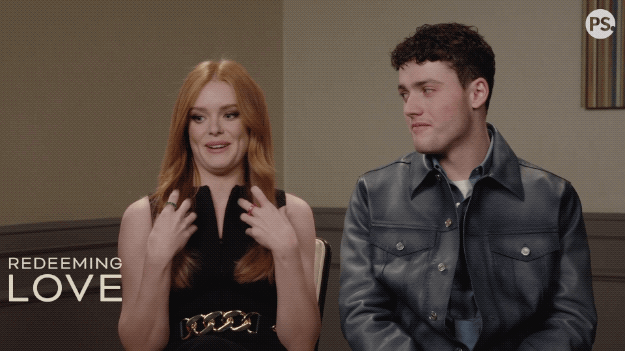 We think not! See the video for that moment, and be sure to watch "Redeeming Love," in theaters now!