Our Fantastic Beasts Quiz Blew the Minds of These "Fantastic Beasts 3" Stars
If there's one thing you can say about the Fantastic Beasts series of films, it's that they're filled with (you guessed it) a wide variety of fantastical, fictional, magical beasts. That said, our incredible world is also inhabited by all manner of natural oddities and unbelievable creatures. When we had a chance to sit down with Jessica Williams, Mads Mikkelsen, Dan Fogler, and Alison Sudol of "Fantastic Beasts: The Secrets of Dumbledore," the choice for interview topic was clear: watch as they intensely debate whether a very unusual name belongs to an animal right here on Earth or to one from the Fantastic Beasts universe.
Think it's a cakewalk? When it comes to names like sarcastic fringehead, hellbender, and leucrotta, these stars are in for a challenge — and debates get heated! Why does Mikkelsen's family refuse to play board games with him? Is Fogler psychic? Which cast member insists on also guessing the size of each animal?
Want to see what it looks like when James Bond/Marvel/Harry Potter universe villain Mikkelsen tells you something will "blow your mind"?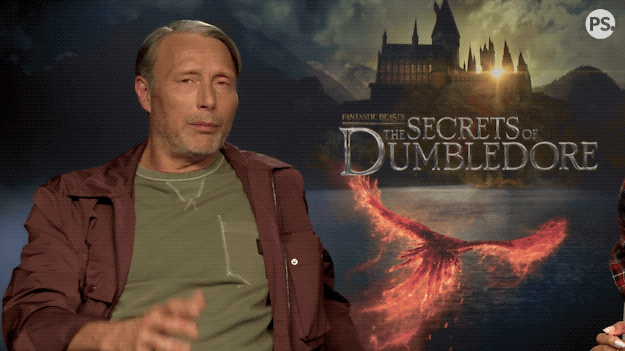 Consider, frankly, our minds blown. Prepare your own brain, and get the answers to all these questions in the video above! Be sure to catch "Fantastic Beasts: The Secrets of Dumbledore" in theaters April 6!