Rosalía's New Bachata Video, "La Fama," Highlights the White-Washing Issue Overwhelming Black Latinx Music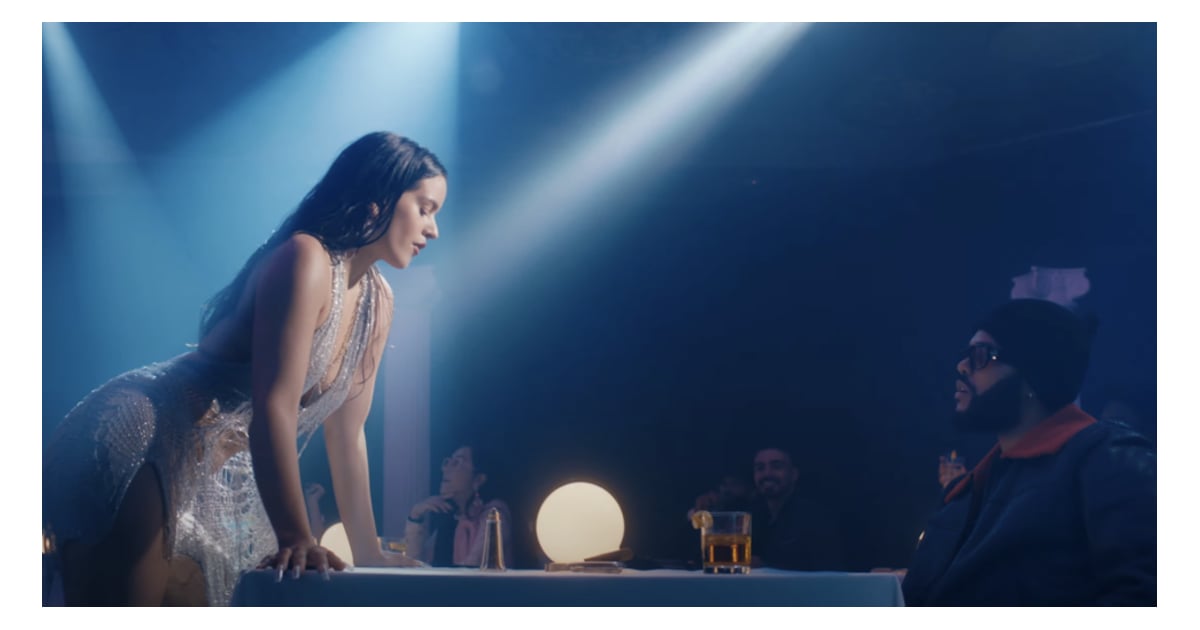 On Thursday, Nov. 11, at 12 p.m. ET, Catalan singer and songwriter Rosalía dropped the music video for her recent single and very first bachata song, "La Fama," featuring The Weeknd. I've been appreciating The Weeknd's music ever since he dropped his 2015 album, Beauty Behind the Madness. The guy's got talent and his range is impressive, which is why I wasn't the least bit surprised when I learned he was now experimenting with Latin sounds and even collaborating on a bachata number where he's actually singing in Spanish. But I'd be lying if I said the news wasn't met with disappointment when I discovered that not a single Dominican bachata artist was featured. This wasn't just a major missed opportunity for the Dominican community but also highlights a much bigger issue that's been brewing for a while within the Latinx music industry.
Before bachata became what it is today, it was seen as campesino music or "la musica de los pobres," even in the Dominican Republic, where the genre originates from. It was the kind of music I only ever heard embraced by the Dominican community before Dominican American bachata band Aventura hit the scene and completely revolutionized the genre. In a matter of years, bachata would become mainstream. So mainstream, in fact, that bachata artist Prince Royce would eventually go on to perform at the 2020 Democratic National Convention. If that wasn't considered a sign of bachata's global recognition and success, I don't know what would be. Like reggaeton, bachata has been through a lot in terms of earning the respect and recognition it deserves. And like reggaeton, bachata originated with Black Latinx music artists. In this particular case, Black Dominican music artists. And yet in both genres, Black Latinx artists have, over time, gradually been erased.
If Rosalía really wanted to experiment with bachata, why didn't she use her platform to feature a Dominican bachata artist?
If Rosalía really wanted to experiment with bachata, why didn't she use her platform to feature a Dominican bachata artist? If she simply wanted to work with The Weeknd, she could have just made this a regular pop song with flamenco influence. The fact that it's specifically bachata is where my issue lies. The track could have featured any of the bachata OGs like Juan Luis Guerra, Frank Reyes, Elvis Martínez, Raulín Rodríguez, Zacarías Ferreíra, or Luis Vargas. It could have even been a collaboration with Romeo Santos and Aventura like Bad Bunny did with "Volví," the single that had people so hyped, most of us stayed up until midnight to hear the release. Rosalía could have even collaborated with a woman artist and bachatera – yes, they do exist, and they have for a while now. She could have worked with someone like Alexandra Cabrera de la Cruz, Andre Veloz, or even Leslie Grace, who has hit mainstream stardom since her role in Lin-Manuel Miranda's film adaptation of In the Heights. But instead, Rosalía, who has continued to receive backlash for taking up space in Latinx music genres that originated with Black Latinx artists, once again chose to not use her platform to put a Dominican artist on.
Simply put, it's infuriating that a genre that took Dominicans so long to gain global respect and recognition for is now being profited by a white Spanish woman who has not once used her platform to amplify Black Dominican women artists. It's also a rude reminder in how white-washed anything becomes once it goes mainstream. The truth is, the more popularity these genres gain, the whiter they become.
The issue here is that Rosalía is actually contributing to the erasure of Black Latina music artists, whether she realizes it or not. This also works toward perpetuating stereotypes around them. Rosalía could make room for Black women artists to get mainstream attention for their own bachata singles or be featured as a love interest in a music video, a role she often gets in music collaborations. Black women are instead either not seen at all in these spaces, despite their artistic contributions, or they are overly sexualized and exploited like we saw in J Balvin's controversial music video "Perra," where Black women are displayed on all fours with dog faces.
Dominican American journalist and multimedia creative Jennifer Mota, who has been covering bachata, reggaeton, and dembow music throughout her career, has some thoughts on the matter. "I personally think The Weeknd is one of the greatest artists of our time. He has consistently created works of art throughout his evolution as a singer/songwriter. Unfortunately, it's extremely disappointing and a missed opportunity to create visibility for a Dominican bachatera/o," Mota shared with POPSUGAR. "This is a Black, Dominican-made genre that was scorned by society, and though the homegrown, campesinao bachata is heard internationally, it hasn't received proper recognition . . . in mainstream industry places."
"I need English-language artists to understand that the Latin music industry is racist and classist; when they create music with artists who aren't from a specific culture, they're absolutely contributing to that erasure."
Mota added that she wishes artists on the anglo/English-language side of the industry catered more to understanding the complex dynamic of the Latin industry. "I understand this is an art, but it is also a business. There's always this conversation on 'music is for everybody,' and it is, but who gets to create and profit off of it? Who gets that visibility? It's never the Black Latiné creators and residents of that culture," she said. "I need English-language artists to understand that the Latin music industry is racist and classist; when they create music with artists who aren't from a specific culture, they're absolutely contributing to that erasure."
But canceling Rosalía for continuing to take up space in Black Latinx music genres isn't the answer. Mota explained that the issue is so much bigger than her. "Rosalía isn't the first and will not be the last. She continuously gets away with it because the system was built for this and for her," she said. "It's bigger than one person. Latin American mainstream media and [the] music industry is a product of racism, [as a result of] Latin America's racial caste system. And because of that, it has traditionally upheld European standards, which historically have erased Black artists from their own genres. When it comes to marketing the music globally, racializing 'Latino,' which isn't a racial category, allows the music industry umbrella to elevate white Latiné artists as 'people of color.' That branding of Latinidad has also played a crucial role."
A solution to this problem has been long overdue. And while calling it out might help folks become more aware that the problem even exists, it's far from a real resolve. Mota explained that for change to happen, there would have to be significant industry changes made. She concluded with saying: "Nothing will change until the industry changes, recognizes that there is a problem, and that the best way to combat that is decolonizing the system set in place that consistently blocks Black Latiné artists from opportunities."