The Important Lesson Jaden Michael Learned From Ava DuVernay and Colin Kaepernick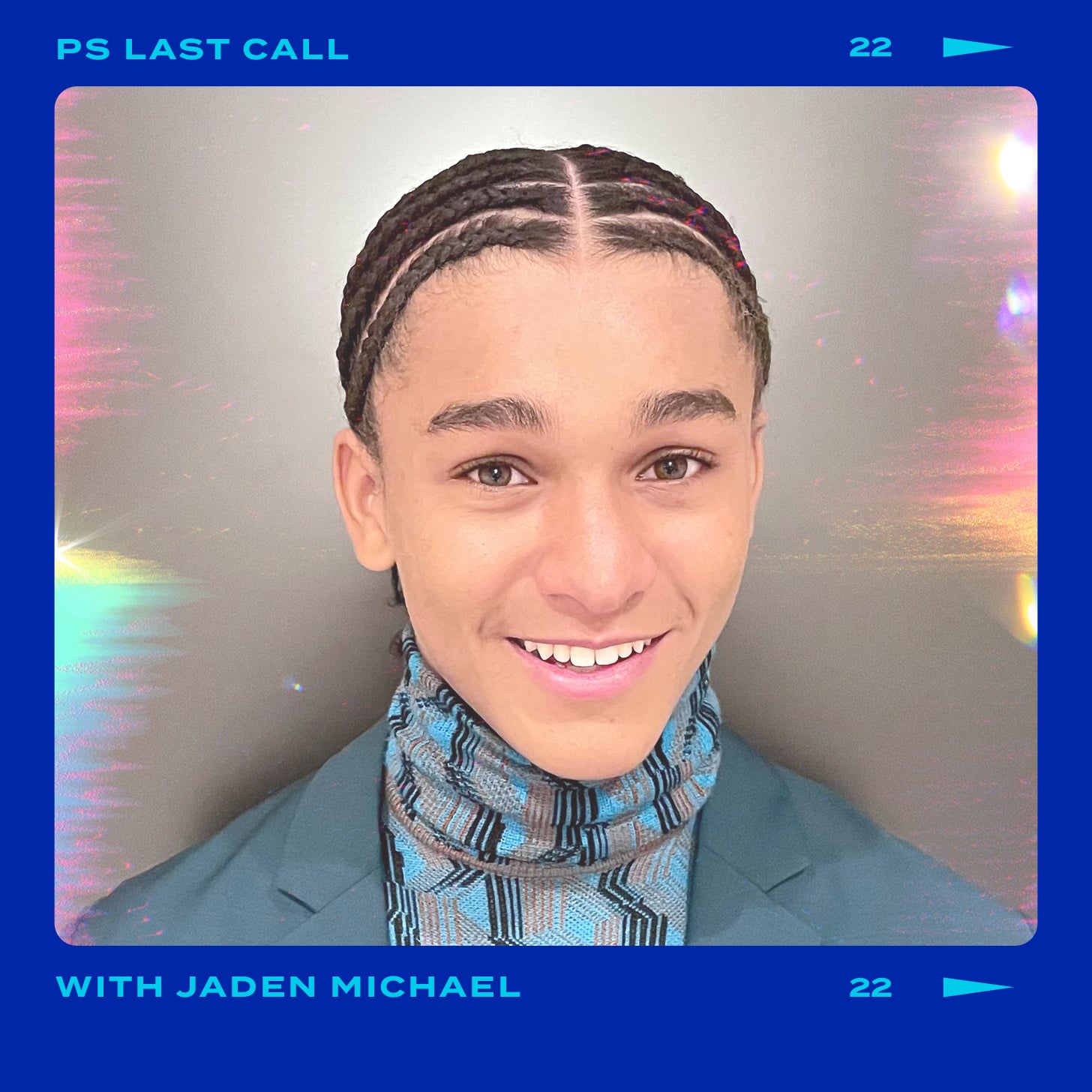 In our Q&A series Last Call, we get down to the bottom of every last thing with some of our favorite celebs — from the last time they were starstruck to the last song they listened to. This week, Jaden Michael takes our call.
Jaden Michael is destined for greatness. The 18-year-old stars as young Colin Kaepernick in Netflix's Colin in Black & White series, which delves into the former San Francisco 49ers quarterback's formative years and journey to activism. It was a dream come true for Jaden to play his idol on screen, and the role marks his biggest to date.
While speaking to POPSUGAR, Jaden told us that he admires Colin's "selflessness and bravery to stand up for something bigger than himself." He added, "It takes a lot of guts to spend your entire life dedicating yourself to a craft and such a physical and emotionally draining career and say, 'You know what? It's not worth it if it's not for my people.'"
"I'm excited to see where the world takes me."
Not only did Jaden get to step into Colin's shoes through working on the series, but he also learned an important lesson along the way. "I learned from Ava [DuVernay] and Colin mutually to trust myself and to be confident in my skin and in my abilities," he explained. "It's something I'm still reeling with and learning as I think about our time together. They've definitely inspired me to be a little bit more confident in myself."
Looking ahead, if Jaden could work with anyone else it would be directors David Lynch and Wes Anderson. "Wes Anderson is great, but I don't know where I would fit into that story," he said. "I love film and indie film. I love working with new directors, creators, and artists, so I'm excited to see where the world takes me."
Read more of Jaden's Last Call interview ahead.
What was the last day on the set of Colin in Black & White like?
It was really beautiful and heart-warming. It was like seeing your family for the last time. We all grew so close while shooting. [It was] three or four months of coming to work every day and everyone giving their all and being inspired and enlightened through the creative process. I remember someone came up to me and said, "Thank you." They were telling me how they weren't exactly aligned with Colin's political views or political motivations, but through the story and watching it unfold through my eyes and the lens, it has completely changed how they think about those power roles and about the world in general. They completely appreciate and understand Colin now. That was one of the most beautiful experiences of my life — that I could change or enlighten someone in their politics, something that as humans we're so stubborn about and hold so dearly.
What is the last thing you did with your Colin in Black & White costars off set?
We had a cute little dinner. Mary-Louise Parker, her family, my mom, and I went to Nick Offerman's house and we had a little lunch. We hung out with Megan Mullally and her dogs. Nick has this really cool glass elevator in his house, so Mary-Louise's son and I would just go up and down on the elevator.
Who is the last Colin in Black & White costar you texted?
Will Parker. I was texting him this morning. He has a cameo on the show [where] he screams at me for liking Crystal [Klarke Pipkin] in the fifth episode.
When was the last time you hung out with Colin Kaepernick?
Last Thursday [Oct. 28]. We were in California for the premiere of Colin in Black & White and we got to spend some time together.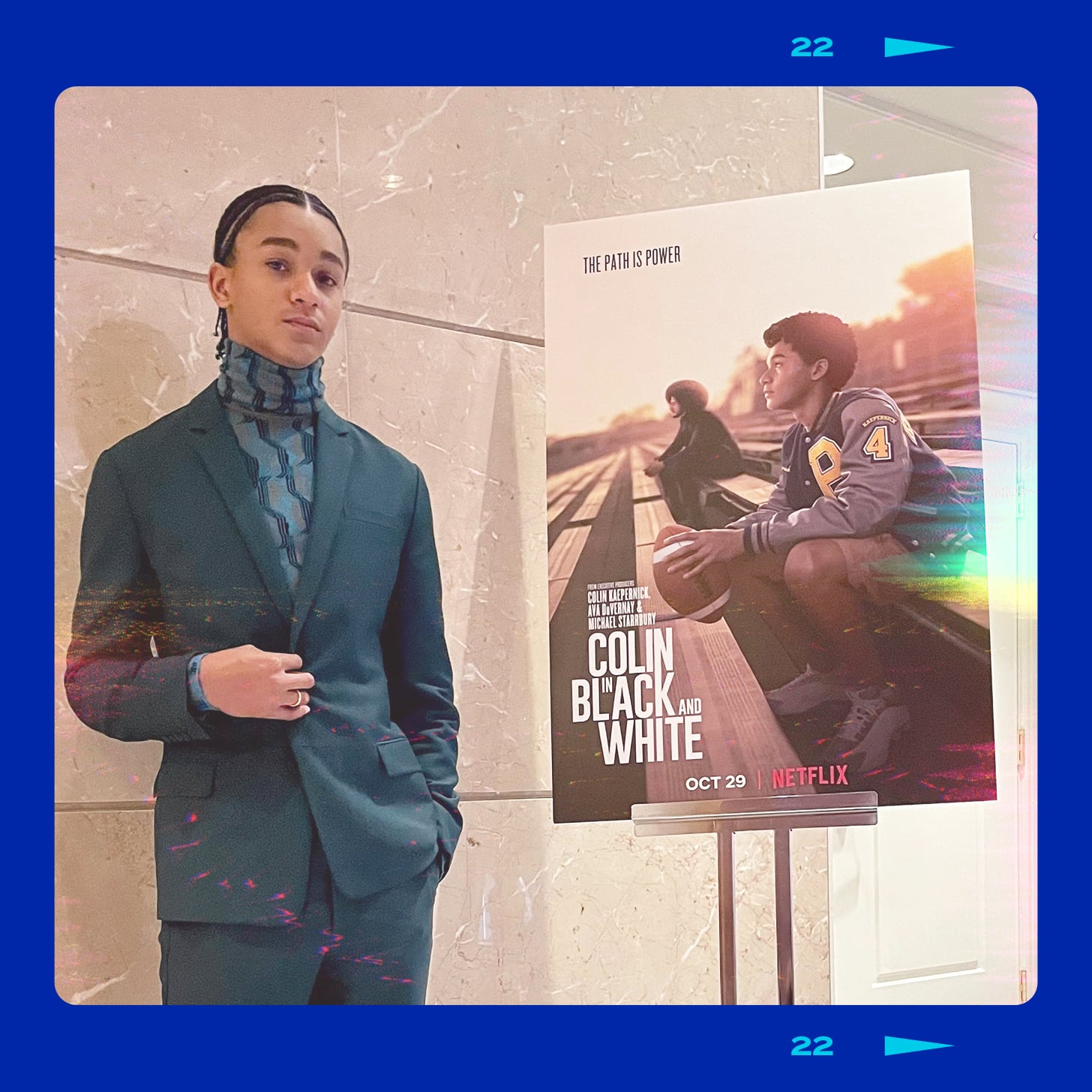 Besides your show, what is the last series you binge-watched?
I actually haven't seen my show. I refuse to watch myself on screen. I'm an avid Office viewer — I have to watch it at least once a year. Oh, and Demon Slayer. I love anime and I love Demon Slayer. The film is awesome.
What is the last song/album you listened to?
I was just playing Hiatus Kaiyote's "Breathing Underwater." The last album I listened to was Donda [by Kanye West]. Donda's a whole experience. If it wasn't that, it was Channel Orange [by Frank Ocean].
What is the last book you read?
I was reading a book for a project I'm working on called Shelter [by Harlan Coben].
What is the last thing you ordered online?
Serotonin. I ordered some serotonin online. [laughs]
When was the last time you were starstruck?
I was at a screening for Colin in Black & White. J.Cole and Joey Bada$$ were there, and I started doing backflips.
What is the last piece of advice you received that changed your life?
The last piece of advice I got was from [director] Kenny Leon. He sent me a message that said, "You were great long before the critics said you were. Keep working towards your greatness and don't give anyone your power." [That was] very deep and meaningful.
Image Source: Courtesy of Jaden Michael