The White House Unveils Barack and Michelle Obama's Official Portraits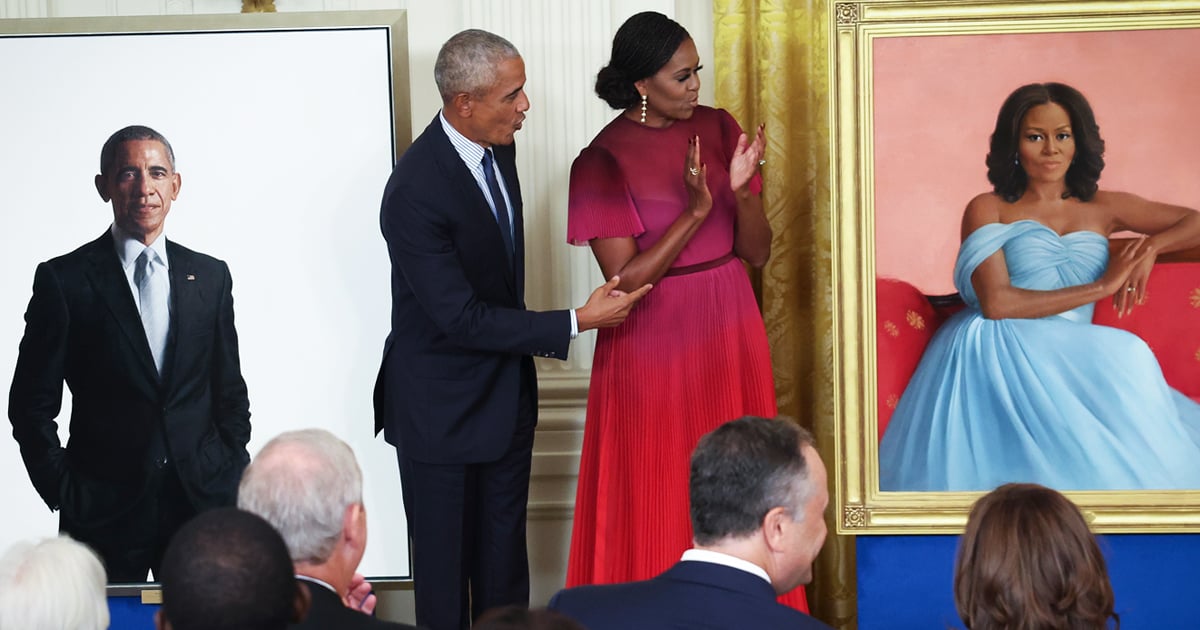 The White House honored former President Barack Obama and former First Lady Michelle Obama with their official portraits at an unveiling ceremony on Sept. 7. Attendees included President Joe Biden, First Lady Jill Biden, the Obamas's family members, as well as Sharon Sprung and Robert McCurdy, the artists behind the pair's likenesses. The Obamas' paintings are the first official portraits that have been introduced to the White House Collection since then-President Obama held an unveiling ceremony for former President George W. Bush and former First Lady Laura Bush in 2012. The history-making paintings are also the first official White House portraits to feature a Black president and first lady.
Per White house tradition, two official portraits are created for each president and first lady. "One set is done by and for the National Portrait Gallery and the other set is funded by the White House Historical Association for the people's house, The White House," President of the White House Historical Association Stewart McLaurin said in a behind-the-scenes video. The Obamas's National Portrait Gallery portraits were unveiled back in 2018 and were painted by Amy Sherald and Kehinde Wiley.
"[Robert McCurdy] captures every wrinkle on your face, every crease in your shirt," the former president said of his White House portrait, according to CNN. "You'll note that he refused to hide any of my gray hairs, refused my request to make my ears smaller. He also talked me out of wearing a tan suit, by the way. His work is so precise that at first glance it looks like a photograph."
Speaking about her own portrait, Mrs. Obama said, "Too often in this country, people feel like they have to look a certain way or act a certain way to fit in, that they have to make a lot of money or come from a certain group or class or faith in order to matter. But what we're looking at today — a portrait of a biracial kid with an unusual name and the daughter of a water pump operator and a stay-at-home mom — what we are seeing is a reminder that there is a place for everyone in this country . . . That is what this country is about. It's not about blood or pedigree or wealth. It's a place where everyone should have a fair shot."
"The painting is not telling the story of Barack Obama. It's telling the story of the relationship of the viewer with this particular person and that's a two-way street."
For McCurdy and Sprung, the process of creating the portraits involved months of working in secret to perfect the Obamas's images. "The subject, ultimately for me, was this idea of the gaze: two people looking directly at each other with nothing else there to load the narrative," McCurdy said of his photorealistic painting of former President Obama against a minimalist white backdrop. "The painting is not telling the story of Barack Obama. It's telling the story of the relationship of the viewer with this particular person and that's a two-way street." The painting took about 18 months to complete. McCurdy added, "The way the painting is constructed is entirely about the viewer. The goal is to have it out there for people to engage. I couldn't be happier that I've been able to do that."
For Sprung, creating Mrs. Obama's likeness was an equally intricate process. In the painting, the former first lady is wearing a custom Jason Wu Collection gown in sapphire blue as she lounges on a red patterned chaise. "What was most remarkable was they wanted a modern sense," Sprung said. "I'm traditional in the sense of how I paint an eye or a face, and I know the skills. But I don't want it to look like it was done in 1913 or whatever. I want it to look [like] this time and place." Sprung added that her painting took around eight or nine months to complete. She continued, "When I walk into the studio in the morning and the painting starts breathing and living and talking to me, then I know it's done . . . I wanted people to pass by the painting and recognize her, be more curious even, to read more about her, but to get her.
At the unveiling, former President Obama said the goal of the portraits was to give future generations an honest sense of who he and the former first lady are. "I hope they leave with a better understanding that if we could make it here, maybe they can too. They can do remarkable things, too," he said.
Former President Obama's official portrait has since replaced former President Bill Clinton's portrait at the base of the main staircase in the White House's Grand Foyer, while Mrs. Obama's is hanging along the ground floor hallway.
Take a look at the unveiling ceremony and the finished portraits ahead.