Watch the "Stranger Things" Cast Crack Up For 4 Minutes Straight
If you've seen even one tiny tidbit of any interview with the "Stranger Things" cast, you know that these actors are about as close as it gets. Having grown up with each other and in front of international audiences on the wildly popular Netflix streaming show, these folks have developed a deeply unique and strong bond. Though Sadie Sink and Priah Ferguson are relative newcomers to the main ensemble, we asked Gaten Matarazzo and Caleb McLaughlin to describe the changes between shooting season one of the hit show and season four.
What they recounted was a connection that enabled these two to grow together, to confide in each other, and to share "brutal" truths with each other. Despite the gravity of this admission, the actors were still joking around with each other, poking fun at the "brutal" word choice. They kept the good times rolling as they tried to get each other to reveal their secret TikTok presences, detailed how they welcome new cast members, and gently ribbed Ferguson for having to continue to do schoolwork on set.
See if you can keep from cracking a smile when you see the infectious laughter from this kooky quartet ahead: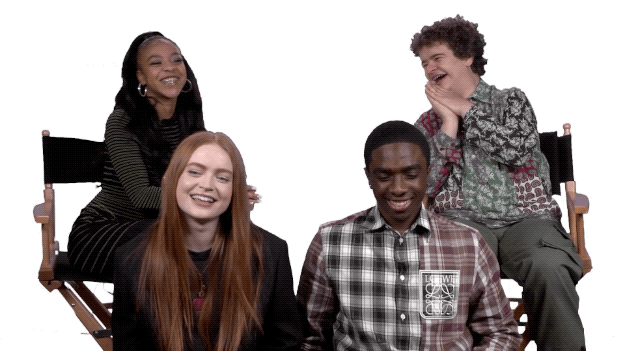 We're beaming over here! See all the laughs above, and for more from these delightful actors (plus a few folks you may have heard of, like Millie Bobby Brown, Finn Wolfhard, Winona Ryder, and so many more) — check out "Stranger Things" season four, streaming now on Netflix!